We are so fed up of reporting day in and day out about the same group pf people murder and terror in EU almost daily with the same excuse its not Islam Its not Muslims yadi dadi daaa....
This while the killers mostly shout Allah Akbar which even the most ignorant of us would say has something with Islam.
Naturally there are as many groups of Islam as there are Christians but that doesn't make it less Islam as when ever we talk to Muslim's we het the same answers. One mans
terrorist is another mans freedom fighter and a overwhelming majority live like radical Muslims while in the west with two wife's or more and with honour killings and Female genital mutilations.
Some once against say its not Islam but its only people of the religion doing it !
So whats there to deny?
Now to the point lets look at what the media reports on the religion of peace this week and today:
Today: Man knifes mother and three daughters at French holiday park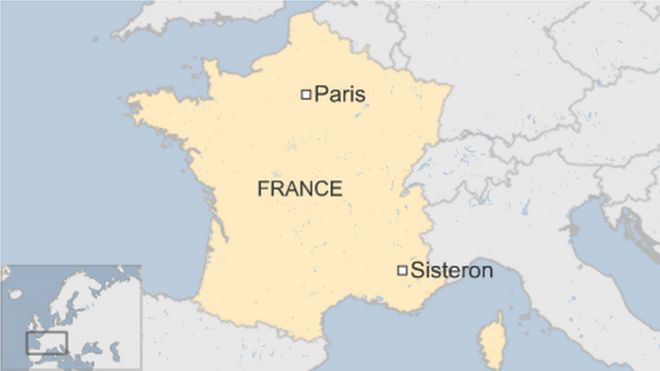 A woman and her three daughters have been attacked by a knife-wielding man at a holiday camp in the south of France, French media report.
All four were wounded, and the youngest of the victims was given emergency surgery because of her wounds.
A man, 37, was arrested trying to leave the scene in a vehicle after the attack, which happened around 09:30 local time (07:30 GMT) near Sisteron.
Local prosecutor Raphael Balland said the motive was still "very vague".
The mother, 46, and her daughters aged eight, 12 and 14 were regular visitors to the holiday camp at Garde-Colombe and had been having breakfast when they came under attack. All four were taken to hospital and the youngest suffered a punctured lung, reports said.
According to authorities, the suspect in custody was of Moroccan origin and had been staying on the site with his own family next door to the victims.
Although he had been in trouble with police many years ago, reports said there was no indication of a religious link to the case.
Unconfirmed reports suggested he had objected to the light clothing worn by his victims but Mr Balland said "it's all rumour, the man's not said anything".
Today: Syria conflict: Rebels filmed 'beheading boy' in Aleppo
Videos have emerged online that appear to show Syrian rebels taunting and then beheading a boy they say is a captured Palestinian pro-government fighter.
One video shows five men posing with the frightened child, who could be as young as 10, in the back of a truck. One of the men grips him by the hair.
The same man is later filmed apparently cutting the boy's head off.
The incident is reported to have taken place in Handarat, north of Aleppo, where there has been heavy fighting.
The area is the location of the unofficial Palestinian refugee camp of Ein El Tal, which was home to some 7,000 people before they were displaced by armed groups in 2013.
Pro-government forces have been attempting to capture Handarat in recent weeks, as part of an offensive that has seen the last remaining road out of rebel-held eastern half of Aleppo cut, trapping an estimated 300,000 people living there
The footage of the boy, who some on social media identified as "Abdullah Issa", first appeared online on Tuesday morning.
The men in the first video say he is a fighter from Liwa al-Quds (the Jerusalem Brigade), a Palestinian pro-government militia operating in the Aleppo area.
Enab Baladi, a pro-opposition news website, said the boy was captured in Handarat by members of a local rebel group, the Nour al-Din al-Zinki Movement.
It quoted Yasser Ibrahim Youssef, a member of the group's political bureau, as saying on Facebook that an independent judicial commission had been appointed to investigate the incident. Anyone proven to have been involved in any violations would be referred to military justice, he added.
A legal adviser for the Western-backed Free Syrian Army was also cited by Enab Baladi as saying it would hold to account those responsible for such a violation.
A report published by the human rights group Amnesty International earlier this month detailed a series of violations allegedly committed by Nour al-Din al-Zinki Movement fighters, including abductions and torture.
The group is reported to have benefited from financial and military support from the US, UK, France, Turkey, Qatar and other Gulf Arab states in the past.
Yesterday: German train attack: Afghan knifeman 'wanted revenge' for friend's death
Prosecutors in Germany say a teenager who attacked train passengers with an axe in Wuerzburg had learnt that a friend had been killed in Afghanistan, and wanted to get revenge.
The 17 year-old, who arrived in Germany a year ago as an unaccompanied refugee, injured four people, two critically, in the attack on Monday evening.
He was shot dead by police as he fled.
The self-styled Islamic State group (IS) has released a video purporting to show him making threats.
In it, a young man brandishing a knife says he is an "IS soldier" preparing for a suicide mission. German officials say they later found a hand-painted IS flag in his room.
Bavarian regional prosecutor Erik Ohlenschlager said the boy was a devout Muslim and wanted to get revenge on "infidels" who had harmed his Muslim friends. He accepted that his own death was a possibility.
Mr Ohlenschlager said the attack was "definitely politically motivated".
But Bavaria's Interior Minister Joachim Herrmann said there was no indication the teenager had direct contact with IS.
Life-threatening
The teenager reportedly shouted the Islamic phrase "Allahu akbar" ("God is great") during the attack.
A police official said on Tuesday that two of the five people injured were in a "life-threatening" condition.
Inside the carriage, a 62-year-old man, his 58-year-old wife, their daughter, 27, and her boyfriend, 27, were attacked, the South China Morning Post reports. They were from Hong Kong. The 17-year-old son travelling with them was not hurt, it said.
A source told the paper the father and boyfriend had tried to protect the other members of the group.
Another woman was injured outside the train as the man fled. Fourteen people were treated for shock.
A news agency with links to IS said the boy had launched the attack "in answer to the calls to target the countries of the coalition fighting Islamic State".
'Slaughterhouse'
Mr Herrmann said those who had interacted with the young man in recent months described him as calm and quiet and they could not understand his actions.
The teenager had gone to the mosque "on special occasions", he said, but no-one had noticed any radical behaviour and there were no signs yet of a direct link to jihadist networks.
He had a placement in a bakery and was likely to secure paid employment soon.
Mr Herrmann said there was no indication Chinese citizens had been specifically targeted.
He also defended the police who shot the attacker, saying the teenager had run at officers brandishing the axe.
The Afghan teenager had been living with a foster family since moving from a refugee centre in the town two weeks ago.
Last year Germany registered more than one million migrants, including more than 150,000 Afghans, although the number has slowed dramatically this year since new EU measures were taken to stop the flow.
Two days ago: "Attack on Nice". How Nice sought to tackle jihad when they cant name Muslims or islam as the reason ???? Its about as logical as Alice in Wonderland.
The attack that killed 84 people in the French city of Nice has led to political recriminations and, yet again, probing questions about how to stop people turning to jihad.
Nice may have been caught off-guard when Mohamed Lahouaiej-Bouhlel's lorry ploughed into a crowd on Bastille Day. But city officials cannot be accused of having been oblivious to the militant danger.
Even before the Paris attacks of January 2015 served as a national wake-up call, they had mobilised to counter what many saw as a looming threat.
As far back as the mid-2000s, a Nice-based group of psychoanalysts and academics called Entr'Autres (Among Others) noticed a trend towards cultural separation and rejection of French values in immigrant areas.
Catherine Chavepeyre-Luccioni, a city councillor and teacher in a deprived area of Nice for 35 years, says she noticed long ago that such attitudes had become particularly strong among the young.....
"In the old days," she says, "the mothers of my pupils were modern women. They never wore veils. Now the children do. The mothers wear veils as well, and tell me it's because their sons demand it."
Now this is where Islam has taken over ...namely the French Culture and way of life! It this

wannest

a fact then the boys would

encourage

their mothers to
dress modern like other French Mothers ....
Imaginative Victimhood
By 2012, says Brigitte Erbibou of Entr'Autres, a sense of identity based on grievance had become common.
"People were talking about conspiracies, the 'American-Zionist axis', she says. "They were openly taking anti-Semitic, anti-Western positions."
Over the next two years, it became clear that the region had become a leading provider of jihadists - to date, 10% of French people who have gone to fight in Syria were from there.
Officials in Nice and the wider Alpes-Maritimes area took notice, and after the Paris attacks that killed 17 people in January 2015, they began watching the local situation closely.
A "radicalisation unit" for the region has been set up, bringing together teachers, social workers and security experts. They meet every week to report on and investigate any sign of trouble.
The mayor of Nice set up a 24/7 help line for families worried about fundamentalism. A dedicated team of counsellors was on hand offering psychological and legal help well before the Nice attack.
Earlier this year, when city officials were told that some football clubs had organised collective prayers, the mayor threatened to cut funding for those that did not respect a "secularism charter". The city also organises seminars for educators and grassroots workers.
Social networks and new media make people more receptive to the jihadist message, but actual recruitment still mostly thrives on old-fashioned personal contacts.
Nice was the home of France's most talented scout for al-Qaeda, Omar Omsen, a Senegalese-born militant who took 40 local youths to Syria, before fleeing there for good three years ago.
And according to one academic study, the areas of Alpes-Maritimes that have seen the highest numbers of departures for jihad are those that saw a large influx of former Algerian militants who moved to France after the civil war of the 1990s.
It would be wrong to conclude that alienated youths from immigrant suburbs are the only people at risk of radicalisation.
"There is no typical profile," says Ms Erbibou. "They come from all backgrounds."
The mother of a middle-class girl living in an upmarket part of Nice described how her daughter - "Carole"- suddenly changed at the age of 13.
"She was a quiet, dutiful girl and an excellent pupil until she started mixing with troubled children from her school."
Carole told her parents they would go to hell if they ate pork. To press her point, she showed them propaganda videos depicting how paradise and hell look like.
"It was like having your child taken away and brainwashed," the mother says. "It sent shivers down our spines. We never thought this would happen to us."
With the help of psychologists from Entr'Autres, Carole, now 16, pulled back from the brink of radicalisation.
She has now embraced the tolerant, mainstream version of Islam.
But her mother says her daughter is not completely out of danger: "We are taking nothing for granted.
Just to make a point clear we wish to show you what a German so called moderate group told people how they can take over Germany peacefully. See it here below:
The worst joke is that in many EU nations they accept polygamy if maria has taken place outside EU. Ot can look like this ! (see below)
Besides a marriage paper can be obtained via mail if needed with a little donation as reward. Laws should be laws and there should be no difference if a Muslim or christian wishes to have 2 or 4 wifes as its immoral in a European society!
We at SDR don't tolerate different laws for different people as its either one law or then anarchy at best! A good example is force marriage that 90% of Indians and Pakistanis still see as normal among Hindus its within the cast but among Muslims its usually the very unhealthy first cousin that causes inbreeding .....