French security forces have shot dead a Muslim gunman as he attacked a patrol at Orly airport south of Paris.
Ziyed Ben Belgacem was killed after putting a gun to a female soldier's head saying he wanted to "die for Allah", officials say. We at SDR ask

his

this

not

a religious

Muslim

? The Muslim killers world wide

always

are said to have had mental problems! He was just

working

him self up to

get

attention on how

peaceful

the religion of Islam is and what a benefit it is for us to have more Muslims.
we at SDR say it as it is. The more muslims

don't

bring any love or cultural benefits for our western societies.
Earlier on Saturday the 39-year-old had been involved in a shooting and then a carjacking in the Paris area.

Belgacem had been reported as

radicalized

in the past, and was on a police watch-list. What does it help when there are hordes on a watch list, but only with a few watching police eyes. Maybe something Like the US method of publicly putting a sum on a mans head if brought to any law enforcement officer or police station......
His criminal record included convictions for armed robbery and drugs

offenses

Paris prosecutor Francois Molins told reporters.

He fell under the influence of Islamist radicals was while serving prison time.
The attack comes at a sensitive but good time for the the locals who never get to see the so called benefits we have been promised for multi culture.... fact is that what EU calls Multi Culture actually are many different nationalities and races however they all preach the same matter namely become a follower of islam or die.
France has presidential elections starting next month and remains under a state of emergency.
Early on Saturday morning, Belgacem was stopped at a checkpoint in Garges-les-Gonesse, north of Paris, where he lives.
He fired at police with a pellet gun before escaping in a car that was later found abandoned.
Police say he then stole a car at gunpoint from a woman at Vitry, south of Paris. (The same car was later found at Orly airport).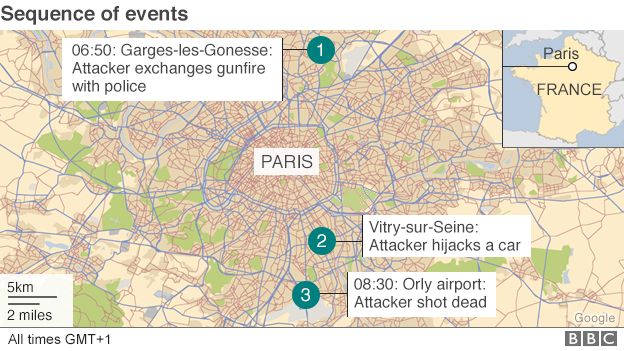 Belgacem arrived at the airport and attacked the military patrol in the south terminal.
He tried to seize the servicewoman's automatic weapon, and him self put his gun to her head and said: "I'm here to die for Allah. In any case people are going to die. "
He was then shot dead by two other soldiers.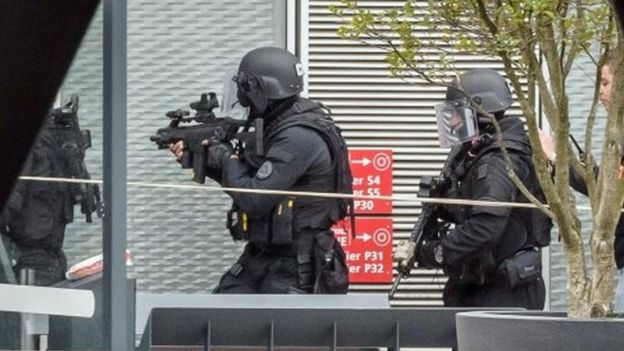 A copy of the Koran was found on his body, Mr Molins added. Its

usually

avoided to talk about "the idiocracy of not outlawing people
who follow some own religious laws"
idiocracy like Sharia rather than the law of the land they receive help from.
Would you go to a Muslim Country and walk around drinking beer in some shorts with starts and stripes just because you can do so at home ?
Im rather sure the Muslims act pretty ignorant and disrespectful but its only because we accept it!
Intelligence agents searched his home in Garges-les-Gonesse for evidence of Islamist sympathies, but reportedly found nothing. However traces of cocaine was discovered during the search.
Radical steps unheard of become almost comical
BBC's Hugh Schofield in Paris tells the picture is building up of a man on the criminal fringes of society, who also consorted with Islamist radicals. The BBC is world champion in giving excuses for any Muslim killers who mention their god, usually they are shouting most of the time: Allah Hu Akbar! ....If we just listen to the words the Muslim himself keeps saying now for many years in EU and all over the world before killing some one or many someones namely: Allah Hu Akbar (Allah is Great ) its hardly a cry from some one having a Panic attack or mental

health problem, who is in need of

tranquilizer like Xanax......
BBC's Hugh Schofields picture is however new and of great
interest criminals and religious fanatics all in one package. We wonder do they force read the Koran to you until you give them all your savings ? Its such a bizarre mixture that we truly wonder if he hasn't enjoyed his stay inParis a little bit to much.....
Orly - located 13km (8 miles) south of Paris - is the capital's second-largest airport.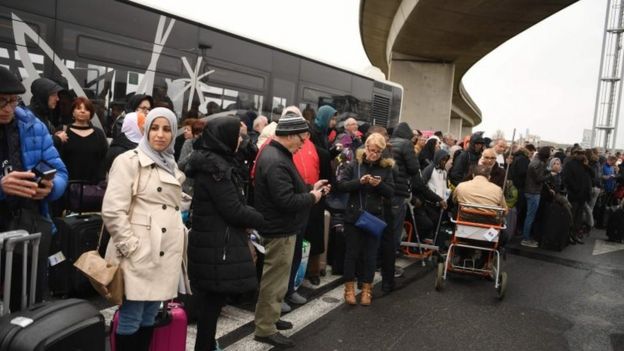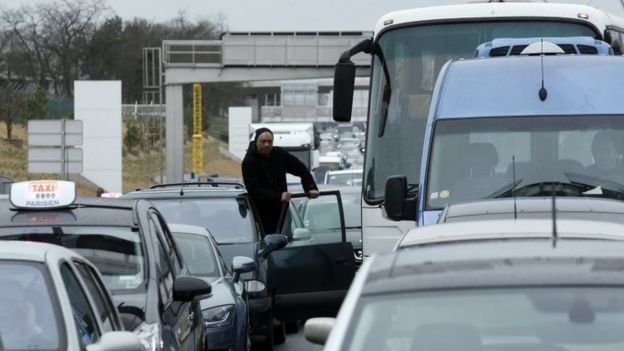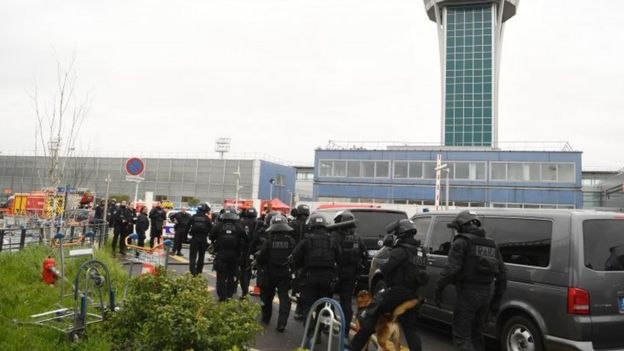 Both the West and the South terminals were closed during the security operation. An estimated 3,000 passengers were evacuated on the French taxpayers tab....
Many flights were suspended, with some arrivals diverted to Charles de Gaulle airport.
But the terminals reopened later in the day and normal flight operations were said to be resuming.


Terrified witnesses
Ellie Guttetter, 18, from the US said: "We were sitting in Hall Three when all of a sudden people started running and telling us to run with them.
"The people running were passengers and flight attendants. It was pretty chaotic and everyone was panicking
- it was scary."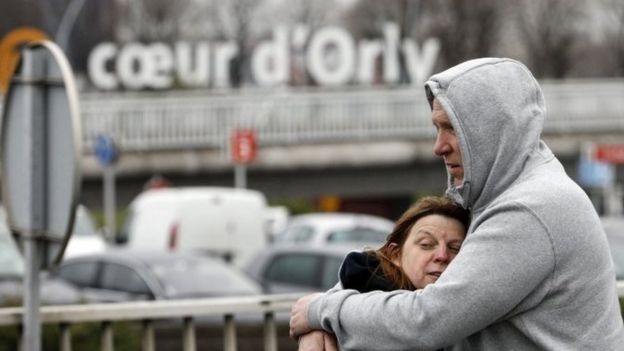 Another eyewitness, Meredith Dixon, described seeing panicked airline personnel, with no security or police personnel to usher people outside the airport complex.
"It was complete chaos," she told the media.
"There were no alarms.
No overhead announcements.
No organised evacuation.
People just began running."